Click on any underlined name to see more info:



Shaklee Powered Athletes

Many of the worlds greatest athletes come to Shaklee for world-class products and nutritional consulting. In addition to athletic success at every level, Shaklee powered athletes have won 30 medals including 19 Gold Medals.

Here is just a small list of the athletes who are currently using or have used Shaklee supplements to enhance their athletic performances ...

Craig Blanchette

Wheelchair racer/world record holder

Captain US Olympic Women's SoccerTeam/Olympic Gold Medalist 1996/Coach

US Ski Team and SnowBoarding Teams
elite level ski and snowboard team

Gary Hall Jr
Elite Swimmer, Gold Medalist

Kent Bostick

Elite Cyclist, Masters World Champion, Medalist

USC Tennis Team
Official Nutritional Sponsor

NASA
Official Product Created for Space travel

Other athletes ...

Jeff Boltinghouse
Racecar driver/NASCAR Goodie Series

Angela Daigle
All-American sprinter/Track & Field

Jayson Duff
Long Jumper/Track & Field

Darin Shapiro

Water Skier & Wakeboarder

Mike Erhar

Eco-Challenge 2000/Extreme Sports

David Fox
Men's Swimmer/Gold Medalist

Richelle Fox
Women's Swimmer/Gold Medalist

Natalie Gibson
Track & Field/All American

Ernie Gregoire, Ed.D
US Track & Field coach

Michael Henderson
AJGA Player of The Year,

Western Amateur and Golden Bear Tour Champion

Scott & Patti Kauf
Moguls Ski Champions

Andy Kelsey
Elite Triathlete

Barb Lindquist
EliteTriathlete

Tracy H. Mattes
400 Meter Hurdler/Track & Field

Carla Overbeck
Women's soccer/Gold Medalist/Coach

Cecelia Potts
Women's Mountain biker

Chris Waddell
Monoski & Wheelchair racing

Stan Whitley
World record holder/ Masters Track & Field

Kevin Wiley
Long Jumper/Track & Field

Breeda Dennehy Willis
Distance Runner

Team Shaklee
Professional cycling - 1986-2000

Oklahoma Quest for Gold Athletes 1976-2000

Todd Ahmadi
Pro beach volleyball player

Michelle Simpson

Water Skier

Ruthie Bolton - Holifield

Women's basketball/Gold Medalist

Darrell Bowles
Endurance cyclist

Laurie Brandt
Mountain biker

Dave Brehm
All natural bodybuilder

Gary Carter
Major League Baseball

Brian Dorsett
Major League Baseball

Drago
Men's soccer – Elite Player

Kate Fonshell
5K & 10K elite runner

Sir Edmond Hillary
Expedition leader

Jay Howell
Major League Baseball

Jimmy Johnson
NFL Football, Hall of Fame

Damon Keeve
Karate elite medalist

Ann Marie Lauck
Women's marathon / medalist

Shelly Looney
Women's Ice Hockey / '98 Gold Medal Winner

Bill Magagna
Triathlete

Ryah Radomski
Mountain Bike Racing Champion

Joanita Reed-Senior
Masters triathlete

Christine Bannon Rodrigues
Karate, Taekwondo expert

Chantal Shea
Women's Track & Field

Annika Sorrenstam
LPGA Superstar

Patty Sheehan
LPGA Golf Star

Linda Somers
Marathoner/Olympic participant

Julie & Marja Sweet
Mother/daughter aerobics team

Ann Trombley
Mountain Biker
US World Championship Team

Rob Whitney
US Ski Team

Canadian Rowing Team

Malaysian Field Hockey Team

Philippines Boxing Team

US Speedskating Team

US Bobsled Team

US Ski Team
Profile: Cindy Arko, Associate, NJ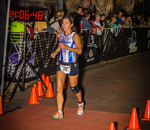 Last month, Cindy Arko completed the Beach to Battleship IronMan® Triathlon in North Carolina -- a tough competition even by elite athlete standards. But for Cindy, the race was more than a test of physical endurance…it was a chance to prove her strength and tenacity in the face of some tough obstacles. Check out her story and how Shaklee products powered her inspirational achievement.
My day began with a 2.4 mile swim, then a 112 mile bike ride and concluded with a 26.2 mile run. I'm proud to say Shaklee products were with me every step of the way!
A normal day for me always starts with Vita-Lea®, OmegaGuard®, CoQHeart®, B-Complex and Optiflora®. Besides a healthy diet, I know Shaklee Sports Nutrition™ has provided me with an excellent foundation to stay healthy and maintain great energy levels. I use Shaklee Performance® exclusively for hydration in my training - before, during and after every workout. Shaklee Physique® has also been an integral part of my exercise recovery regimen.
For me, getting to the race was as much of a challenge as completing it. I had a serious cycling accident in June and I was afraid my dream of completing an Ironman was crushed. I was told I'd be out for the season and there was just no way I would recover in time for the race. After about five weeks off my bike and very little training, I decided there was a way!
And Shaklee Moodlift® Complex*, Gentle Sleep Complex* and Shaklee Sports Nutrition – (especially Physique), helped me get myself back in the game!
I'm so thankful to Roger for all that he does to make Shaklee the best Nutrition Company on the planet. I'm also thankful for my upline Master Coordinator, Jeanne Toovell (Senior Master Coordinator, NY) for believing in me, and never giving up on me during some rough times. It's been a journey and I've struggled. One thing that has remained constant is Shaklee. I feel so blessed Shaklee is such a big part of my life and my training.
Cindy's IronMan Nutrition Plan:
With any endurance event nutrition is key to success. I've seen athletes put in the time training but never make it to the finish line due to stomach issues or just hitting the wall. I made up my mind I wasn't going to let that happen. I finished my race in 14 hours with no cramping, and no issues whatsoever. Here's a recap of where I think Shaklee made the difference.
Race Weekend:
The week prior I loaded up on Optiflora, Vitamin C and Garlic Complex to support my immune system going into the race.* I consumed Three 16-20 oz bottles of Performance the night before the race, in addition to one double serving of Energizing Soy Protein and two Gentle Sleep Complex before bedtime to help me settle down.
Pre-Swim Breakfast
I needed about 850 calories at 4 AM before the race started. Very tough - but a combination of Energizing Soy Protein, oatmeal, a banana and Shaklee Energy Chews worked very well for me and was easy on my stomach. I consumed one large (20 ounce) bottle of Performance, a teaspoon of Vivix®, all my vitamins - and I was out the door running!
Bike Ride Fuel
On my bike I prepared a mix in advance to get approximately 2,000 calories to get me through my 6-7 hour ride. I consumed most of my nutrition on the bike to be prepared to run 26.2 miles without issue. The mix consisted of a concentrated Triple Serving of Performance and Physique which I sipped every fifteen minutes on the bike. Midway through the bike ride at Mile 56, I ate an egg sandwich, some Fig Newtons® and took one Vita-Lea and one B-Complex. I also had a small plastic bag of Performance and a few salt tablets and refilled my water bottle for the second half of the ride.
The ride seemed easy and I was ready for the run – my biggest physical challenge. Aside from some pesky ongoing leg issues, the run was a breeze. Before the run, I took in some quick calories. No need for Performance by this time, because I was fully fueled from the bike. I consumed water and chicken broth at the aid stations and at mile 14 and again at 22 when I needed an extra boost; I ate two Shaklee Energy* Chews.
My plan worked without a hitch. I am an IRONMAN! I ran through the finish line with phenomenal energy and little-to-no muscle pain. Thank you Shaklee!

Our Shaklee Product Website:
http://bodymax.myshaklee.com/us/en/welcome.html
Our Online Product Guide:
http://www.nxtbook.com/nxtbooks/shaklee/2014productguide2/index.php?startid=Cover1&lre=1:healthysource&lnkparams=%26CMP%3DRAC-IZ7434764357&WidgetId=null&BookId=3d1d8ac81f89e3daf273d287934014ce#/2
Some Shaklee Videos below: